Video content has been the rage recently with:
YouTube launching Shorts to rival Tiktok,
Facebook expanding its move into short video Reels to rival TikTok,
Tiktok planning rival YouTube with 10 min videos
And oh, according to Single Grain, 93% of marketers use video while Google reports that 60% of users prefer to watch online videos than TV.
With all the attention on video content, I was wondering if I should be using videos on my sales pages. After all, people are already used to consuming information in video form, they would prefer to watch a video on my sales page right?
Best Practice vs Actual User Experience
A quick Google search suggests that having a video on sales or landing pages does help.
Some even suggest that it should be a best practice to include a professionally shot video on your landing page too.
Really?
Not sure about you, but when I'm browsing sales pages or landing pages, I rarely click on videos. If it auto plays, I tend to stop the video. Worse still…if the video starts off with a bang and shocks me with its sound, I'll leave the page immediately.
My behavior could be unique. (Although experience tells me that I'm pretty average)
What does the data suggest?
Let's look at publicly available data.
Unbounce, a landing page SaaS platform shared their 2021 data on the impact of videos: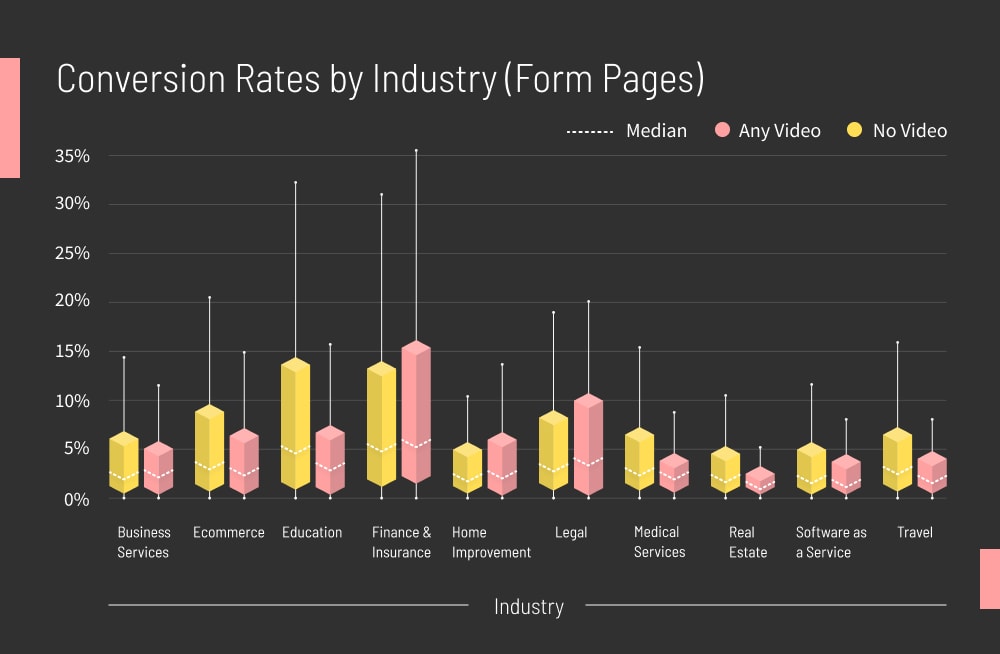 It appears that videos do not really help increase conversion rates much (yellow), except in industries like finance and legal.
This could be because videos can help explain complex concepts in these industries better.
However, the increase isn't too significant. (and I suspect most leads would prefer to hop onto YouTube to watch 'unbiased' videos instead)
What does your data say?
As with all things in marketing, you'll only truly know the impact of having a video on sales pages after testing.
Personally, videos haven't really pushed conversion rates for me. Instead, text based sales pages with supporting images seem to convert better (for now at least).
Takeaway
There'll always be best practices – and those who advocate them do a damn good job ranking on Google.
While best practices are great places to start, we would do better if we look at what works for us.
Many small companies could save a good pile of cash if they skipped the video production and focused on the basics of overcoming sales objections on their sales page.